Based on an FOI and court costs observed in 2018 – these costs were worked out on the rates given below: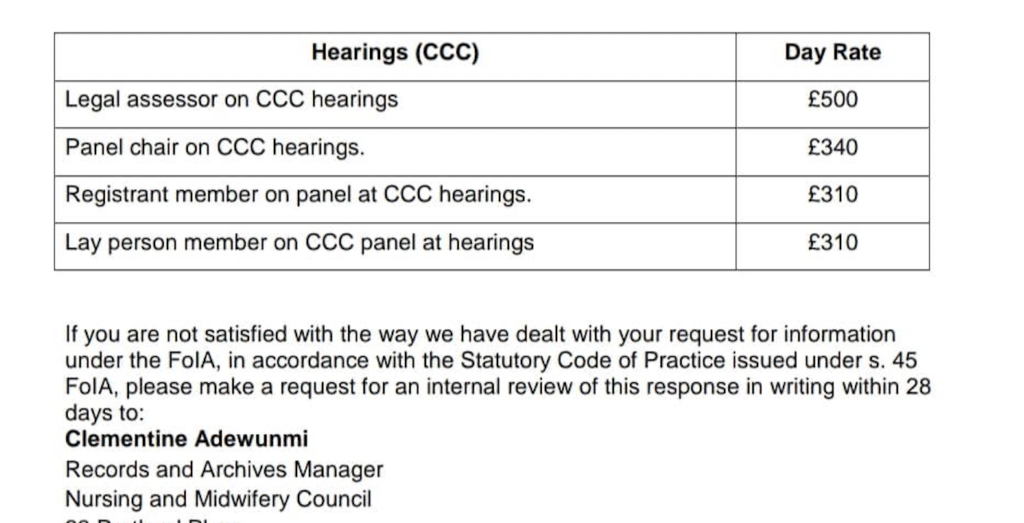 6 day FtP hearing – case presenter                     £9,408
6 day FtP panel                                                       £8,760
Appeal hearing – 3 days – NMC lawyer.              £4,704
7 day FtP hearing – case presenter                     £10,976
FtP panel                              £10,220.           6 month suspension placed by the SOR committee
1 day appeal. – NMC Lawyer                               £1,568              judge reduced above to 4months suspension
1 day SOR hearing – case presenter                  £1,564
– SOR panel                          £9,084
Total cost                                                             £56,284
This midwife continued to attempt to secure her PIN back from the NMC despite the order lapsing following the final (second appeal).
To date, she has still not returned to practice.
Both high court judges in the separate appeals made strong observations in regard to both the original trust investigation and the NMC process. The NMC gave little communication or wider feedback in regard to the judge's comments. In fact, off the record, the case presenter was heard to state that they didn't necessarily agree with the observations of the esteemed judges.
High court judges are extremely skilled in reviewing such cases but have little power to fully overturn the process or step in if they feel the process itself is detrimental. Nurses and midwives have to show deep remediation and, if denying charges, as in this case, will always risk a worse outcome.
Despite the two successful outcomes at appeal for this case, and the observations mirroring previous cases heard through the high court, we still see nurses and midwives experiencing the same issues with the process that this midwife suffered. Sadly, all of them have chosen not to pursue through the courts and have stepped away from the profession.
If you feel there must be a better way – please sign our petition.